Are we able to further close this gap?
We propose two adapters that further modify the text vectors being used during training and analyze if they help boost CLOSE's performance, and our answer is positive:
Linear Adapter
We learn the modality shift by training a linear model to minimize the Euclidean distance between the adapted text vector and its paired image vector. We continue to add Gaussian noise after applying this model.
Gaussian Noise with a Shaped Covariance Matrix
Even in principle, we do not expect there to be a perfect one-to-one mapping between text and image vectors because an image vector can be similar to many different text vectors that describe different parts or details of the image. This motivates us to approach the problem from the perspective of better understanding how text is distributed around its related images and vice versa. We perform a small case study by selecting four image/caption pairs that represent two different semantic changes, and then examine how the image or text vectors shift according to these changes. We observe that the text vectors move in a more consistent manner when the species or positions of the animals are changed, while the image vectors shift in more inconsistent directions. This is likely due to minor changes in the image semantics, such as slight modifications in the animals' appearance, background, or camera position, that are not captured in the text but are naturally encoded in the images. As a result, a shift in the text vector does not translate to an accurately predictable shift in the paired image vector. More generally, this inconsistency reflects the fact that images often capture more details than text, and thus are rarely beautifully aligned with their text counterparts.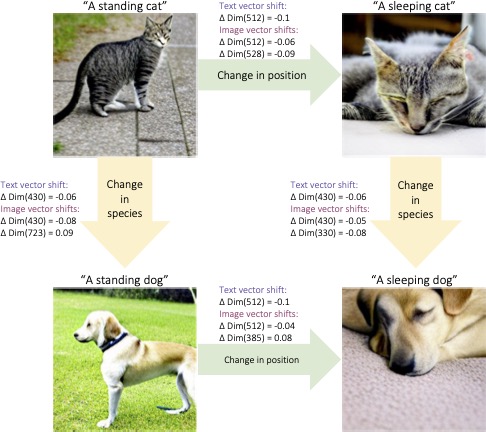 Figure 3. An example of how image/text feature vectors shift with a specific change in species (vertically) or position (horizontally). Text adjacent to each arrow shows any significant changes in the text (purple) or image (red) vector that occurred because of the shift.
Question: Will adding noise impose a limit on the resolution that the model can work at?
To clarify, the concern of potential resolution drop due to noise is more valid if we trained models directly on images and we added noise to images, which is different from what we do. In that hypothesized scenario, the noise could provide regularization effect and therefore could still improve the performance of the resulting model (if it had been tuned to achieve a good resolution vs. regularization tradeoff). Here we only train on text data, and because text and image vectors are so different themselves (see the prior section on modality gap), a reasonably scaled noise can only help.
It is still interesting to study how much granularity in the vector embeddings that CLOSE can capture. We find that, by feeding the above four images to CLOSE, it is able to distinguish the small differences in the image semantics and produce accurate captions. Respectively for each image, the predicted captions are: a standing cat -> a cat that is standing on the sidewalk; a sleeping cat -> a cat that is laying down on a bed; a standing dog -> a dog that is standing in the grass; a sleeping dog -> a dog is curled up on a rag.
We further analyze how image and text vectors typically differ by computing the differences between image/text pairs in an auxiliary corpus of COCO. We center these differences and apply PCA. The first two plots in the figure below show that the first few directions explain a large portion of the variance and thus the differences often occur in similar directions. The third plot, which shows the Pearson correlation coefficient for the most related features, confirms with our intuition that a number of these features are highly correlated.

Figure 4. Plots analyzing the differences between image and text vectors in COCO captions.
Indeed, image/text pairs tend to move in a structured manner that follows a particular "shape". We capture this subtle relationship by studying the covariance matrix of the differences between text-image vectors. We then modify our Gaussian noise that is added to the text during training to better simulate this co-movement.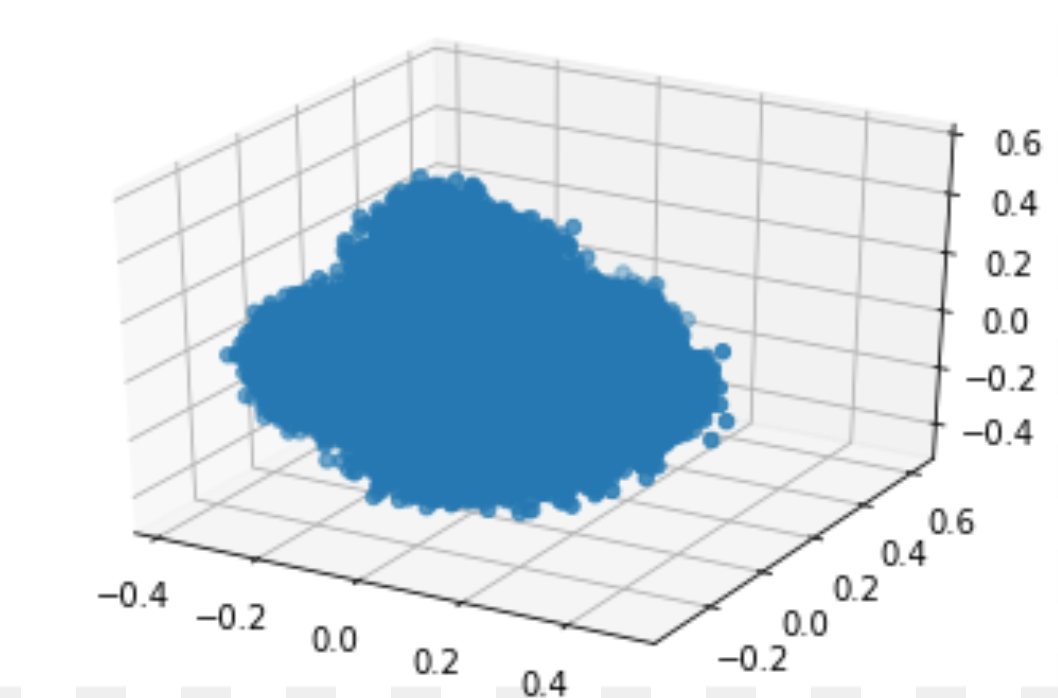 Figure 5. The heart shape of the covariance of text-image vectors.
The following table shows the results of applying the aforementioned adapters. We observe large improvements on captioning, modest improvements on VQA and visual news, and similar performance on visual entailment.

Table 2. Results with adapters built with auxiliary paired data. It shows the modality gap (aka cosine similarity) on COCO captions, captioning CIDEr, visual entailment accuracy, VQA-E accuracy and visual news CIDEr.
Using the first row as a baseline, we see that a smaller gap does not always correspond to a better performance. So what is missing here? Is there a limit on the amount of performance gain we can get if we only try to close the modality gap as defined earlier? If so, maybe we should consider matching higher moments as well? For example the second row also tries to make the difference of the variances smaller.