Cross modaL transfer On Semantic Embeddings
We use Visual and Language models trained with a contrastive loss. These models learn to embed text and images into vectors such that the vectors for matching images and captions are close together, and vectors for unrelated images and captions are far apart. We propose a method called Cross modaL transfer On Semantic Embeddings (CLOSE) to take advantage of these encoders. During training, the text inputs are encoded into a vector using the (frozen) text encoder, which is then used as an input to a model. During testing, the visual input is embedded with an image encoder and used in place of the text embedding. Because these encoders were explicitly trained to produce embeddings that encode semantics in similar ways, learning to read and process the text vector should naturally translate to the ability to read and process the image vector.

Figure 1. Overview of CLOSE.
Although we focus on text-to-image transfer, our approach is applicable to other contrastive models such as videos, point clouds, and audio, potentially allowing transfer between many other modalities. One potential difficulty with this approach is that, while contrastive embeddings do share some structure between modalities, there can still be significant differences between the image and text vectors in practice. To mitigate this, we propose to additionally use adapters that modify the text vectors being used during training. We find adding Gaussian noise to be very effective in boosting performance, but consider other approaches as well:
Linear Adapter
We learn the modality shift by training a linear model to minimize the euclidean distance between paired text and image vectors. We continue to add Gaussian noise after applying this model.
Structured Noise
Even in principle, we do not expect there to be a perfect one-to-one mapping between text and image vectors because an image vector can be similar to many different texts that describe different parts or detail of the image. We do a small case study by selecting four image/caption pairs that represent two different semantic changes, and then examining how the image or text vectors change with these changes in semantics. We observe that the text vectors change in a consistent manner when the species or position of the animal is changed, while the image vectors shift in more inconsistent directions. As a result, a shift in the text vectors does not correspond to a consistent shift in the image vectors, which makes perfectly aligning image and text vectors inherently challenging.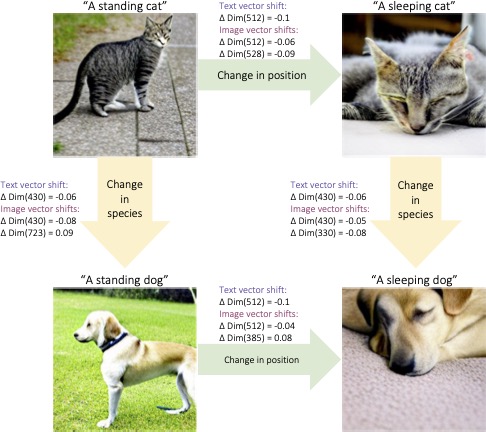 Figure 2. An example of how image/text feature vectors shift with a specific change in species (vertically) or position (horizontally). Text adjacent to each arrow shows any significant changes in the text (purple) or image (red) vector that occurred because of the shift.
This motivates us to approach the problem from the perspective of better understanding how text vectors are distributed around the related image vectors, instead of just trying to learn a simple mapping function. To better account for this structured relationship during training, we add Gaussian noise using the mean and covariance of the differences between paired image and text vectors in the auxiliary corpus to the text vectors during training. This noise is expected to better simulate the text-image shift that will occur during evaluation.